A big part of what we do is providing opportunities to have a break from the responsibilities of caring and to meet other young carers. 
Sometimes it's good to know that other people understand what is going on for you – when you are grumpy because you have been up all night caring, or can't hang out after school.  Lots of the young people we support develop lasting friendships that continue beyond Carers Lewisham.
Support we provide includes:
Art club – fortnightly workshops
Our fortnightly drop in art club for young carers and young adult carers covers a different style of art each session, with accredited certification for a substantial amount of hours.  There are also trips out to art gallerys & guest workshops.
Drop in and relax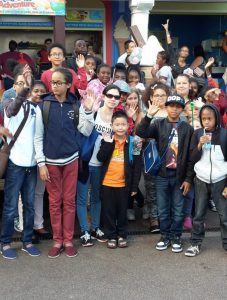 In term time we hold drop-in social sessions, where you can relax, take a break, or even do your homework.  There are board games, football and snooker tables, gaming, and a chance to meet up with friends.  Our friendly young carers team will be there to talk through any issues or challenges you want support with. We will also have guest workshops at some of these drop ins.
Half term trips and activities
Even during the school holidays, young carers find it hard to get a break.  We run a mix of trips and activities during half term.  These are all completely free and targeted to different ages, so you can do things that are fun for you and meet and make friends with other carers your age.  Our trips are for young people aged 5-7, 8-10 and 11-16.
Advice and support
We are specialist in helping young carers with the different challenges they face.  We often take calls from parents or professionals who want information or advice about a particular challenge, but we can also talk to young carers themselves about any issues they are facing.
Trips away (residentials)
We run trips away from home, called residentials, two or three times a year – normally during August, October and April.  These are normally two nights and three days away from home.  The trips are completely free, all we need is a parent's permission.
Mentoring for 15-25 year olds
When someone is between 15-25 they have a lot of life changes happening which they are having to juggle with their caring role. Some of these things could be:
Going to college/sixth form
Looking for university
Moving out
Getting a job
Finding themselves
Relationships
We hope that by offering this project to our young carers/young adult carers we will be able to pair them up with a volunteer mentor who will help them set goals, be a trusted confidant adult and help raise their aspirations.
Register for support
To use our services for young people aged 5-16, we need a referral from a professional – this could be a teacher, social worker, GP or someone else who supports you and/or the person you care for in a professional role.  You and the person making the referral need to fill out the form and return it by email to info@carerslewisham.org.uk.
Once we have received your referral form, we will be in touch with you within 3 to 5 working days to explain more about what we do and talk about how we can best support you, and we will let the person who has made the referral form know that we have registered you.